The past few months have been all about self-care and skincare for me, and I have dedicated my time to discovering products that can match up to their tall claims.
Face cleansing has been a mandatory step of my daily skincare routine, which is why I have tried out multiple face cleansing masks recently. Sheet masks have been on the top of my list since I find them hassle-free and super effective for instant results. 
I have tried out a lot of different face masks during the last couple of months, and I was excited to try out Colorbar's two new face cleansing masks that came in a few days ago. Both of these are bubble masks, and they(Colorbar) have generated quite a buzz in the market because of their unique bubble technology.
So, here's my honest review of the two Colorbar face cleansing masks – Bubble Away Sheet Mask and Bubble Glow Sheet Mask. 
Bubble Away Sheet Mask
Just dropped in! 
Let's first talk about the Bubble Away Sheet Mask. This detox face mask's specialty is that once you put it on your face, it generates micro bubbles that infuse your skin with oxygen and hydrates your face.
As soon as I placed the bubble mask on my face, I noticed the microbubbles and felt the tingling effect of this face cleansing mask. It was a funny feeling that felt oddly satisfying because it made me feel like the detox face mask was thoroughly cleansing my face.
The product description states that it contains detoxifying agents that revitalize your skin and makes it appear healthier.
I used this Colorbar face cleansing mask one time, and as soon as I took off the mask, I noticed a radiant glow on my skin. I have dry skin, so I was pleasantly surprised to notice a newfound radiance on my face, which felt moisturized and hydrated and was smooth to the touch. 
This face mask contains Licorice Root Extract and Pomegranate Extract, both of which are known for their natural healing properties. 
Those ingredients especially work wonderfully for dry skin by soothing any irritation and getting rid of redness. Additionally, the latter helps repair damaged and dull skin, making it glow from within.
I was very impressed with the instant difference that I observed on my face, and I would definitely recommend this Colorbar face cleansing Mask for a bi-weekly home detox session.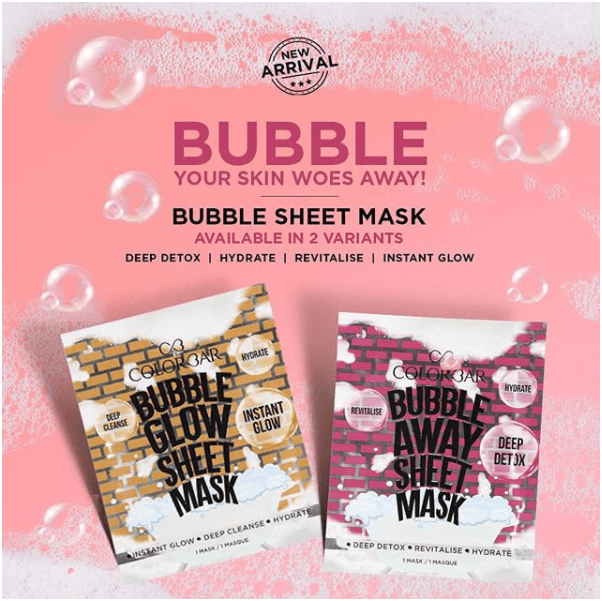 Bubble Glow Sheet Mask
The other Colorbar face cleansing mask that I used was the Bubble Glow Sheet Mask. 
Okay, I have to confess straight up, I am obsessed with this face mask. This is probably going to be one of my most cherished skincare discoveries so far this year.
The glow up that this bubble mask gave me was simply dazzling, and it felt as if I had just gotten a super expensive facial done from a high-end salon. 
Using the same bubble technology, this Colorbar face cleansing mask helps remove the layer of dull and damaged skin on your face and enhances your natural glow. It contains Lysine Extracts which is a known skin lightening agent that helps radiate your skin.  
I started by cleansing my face and then carefully placed this bubble mask on my face. After leaving it on for about 15 minutes, I took it off and washed my face with lukewarm water as instructed on the product.
I was shocked to see the difference in my appearance, considering how my face looked bright and clean. I feel that with continued use, it can also help me get rid of the patchiness and dark spots on my face.
I would definitely recommend using this Colorbar face cleansing mask before any special occasion since it gives you a salon-like facial glow up. I will use this at least once a week and document how it helps my skin over time.
Verdict
The two Colorbar face cleansing masks have truly proved their worth and are top on my list of skincare recommendations. They are super reasonable as well, which makes me more inclined to repurchase them soon.